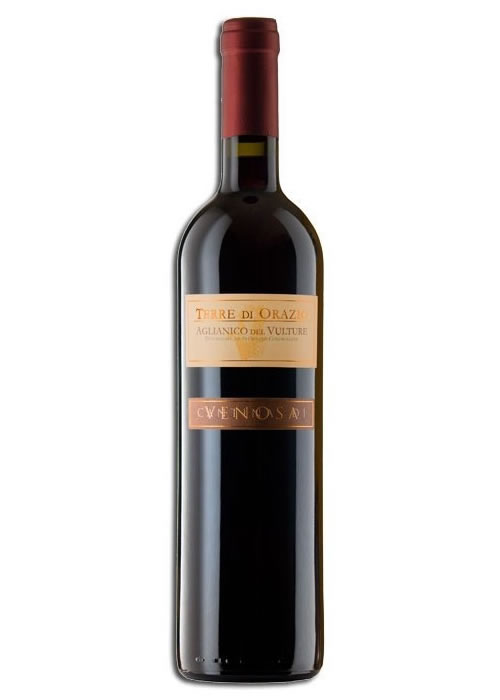 Manufacturer: Cantine di Venosa
Grape variety: 100% Aglianico.
Type of Vine Growing and Average Density per Ha: Espalier with about 3,500 plants Vineyard age: 15 - 30 years
Production per hectare: 7 - 9 tons
Vineyard altitude: 450 - 500 meters
Production area: North-eastern part of the Province of Potenza delimited by the production disciplinary which includes the territory of n. 15 Municipalities, especially in the Municipality of Venosa Città di Orazio.
Harvest time: from 15 to 30 October.
Harvest method: Selection of the grapes, hand picked, in crates of 12 - 15 Kg.
In the early hours of the morning and immediate transport of the same to the cellar.
Vinification: Vinification in small fermentation vats and pellicular maceration at a controlled temperature of 23 ° to 26 ° C. for about 10 days, completion of alcoholic and malolactic fermentation in stainless steel tanks. Aging: In 25 hl barrels for 15 months and in the bottle.
Bottling: Cold filtration and bottling.
Organoleptic characteristics and technical comment: Well structured and elegant wine that presents: Intense ruby ​​red color with light garnet reflections. Vinous and personal bouquet with a delicate bouquet of violets and currants. Dry, full and intense taste, pleasantly tannic. Food pairing and serving temperature: It is the classic roast white wine, savory first courses and spicy cheeses. It is suggested to serve at 18 ° - 20 ° C.