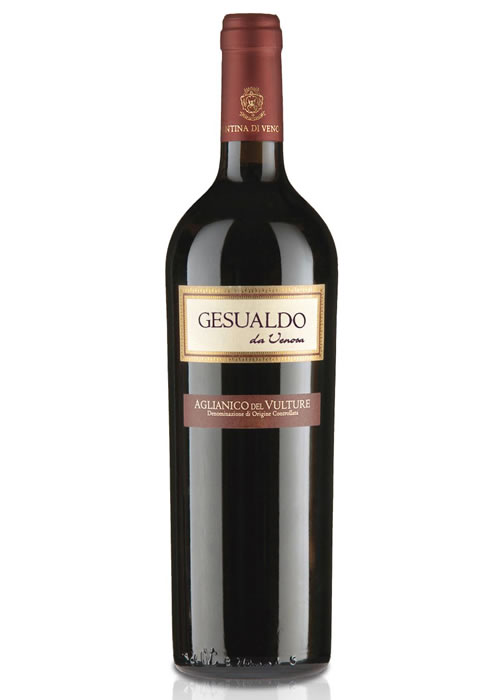 Aglianico del Vulture - Cantine di Venosa
Grape variety: 100% Aglianico.
Type of Vineyard Breeding and average density per Ha: Espalier with about 4,000 plants. Vineyard age: 40 - 50 years
Production per hectare: 6-7 tons Vineyard altitude: 400 - 450 meters
Production area: North-eastern part of the Province of Potenza delimited by the production disciplinary which includes the territory of n. 15 Municipalities, especially in the Municipality of Venosa Città di Orazio. Harvest time: End of October. Harvest method: Selection of grapes, hand picked, in crates of 10 - 12 Kg. In the early hours of the morning and immediate transport of the same to the cellar.
Vinification: Vinification in horizontal rotary fermenters and pellicular maceration at a controlled temperature of 23 ° to 26 ° C. for about 10 days, completion of alcoholic and malolactic fermentation in stainless steel tanks and immediate transfer to French oak barrels of lt. 225 - 300 for about 9 months and is bottled at 50% with wine aged in stainless steel tanks. It is marketed at least 4 months after bottling.
Organoleptic characteristics and technical comment: Wine with extreme sensations, great balance and elegance that it presents Deep and impenetrable purple red color. Vinous and intoxicating bouquet with clear hints of ripe black fruits and spices Dry, full and sensorial flavor of a volcanic nature, slightly tannic, dense and velvety. Food pairing and serving temperature: ideal companion for important banquets for the full satisfaction of personal taste to love with the dishes you love. Uncork with the right advance and serve at 18 ° - 20 ° C.